Snapshot of Outreach


Well outreach is over, everyone is back in Battambang, our last week of teaching is over, and we're all beginning to feel the withdrawl from the people who have become our multinational family for the last six months. My suitcase is half-packed (the rest of my area is a disaster -- I'm never in my room, always out with friends, talking, enjoying last smoothies, last coffees, last trips to the market, last midnight conversations. My team today had our last Barbecue) and my mind is already on the 'next step.' It's going to be hard to leave here. Unlike most DTSers we've spent our entire time here, and all of our outreaches were in the same country as well. Last night we had our last "Fasting Friday" and spent two hours thanking God for absolutely everything about the last six months that we could think of -- and towards the end one Khmer student thanked God for all the foreigners who care enough about their country to come here and help them. Today is our last free day. I went to Sunrise for breakfast, then went home to meet Yaroth and Thearvy for a few hours. Now I'm going to head home to write in my journal before I forget all the things I saw, the things I learned, the stories I was told, and the disasters turned ministry opportunities.


So here in a nutshell is just a snapshot of my time in Ratanakiri and Mondulkiri: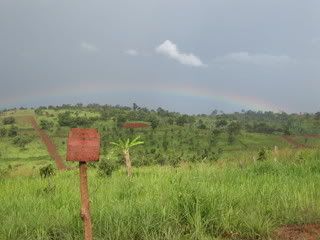 This is Mondulkiri after a rainstorm. We walked about two and a half hours into the Senmaroon Forest. Everywhere we walked in this part of Cambodia was so beautiful with the lush green criss crossed with red dirt roads. (The same beautiful red country roads after the rain made clothes washing a nightmare)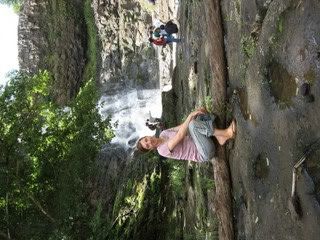 Me at the BOO-srah waterfall. We spent the day there for fun when Garth came to encourage our team.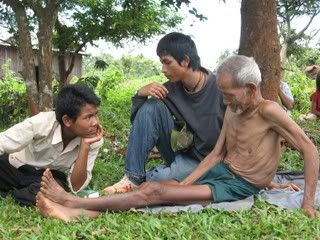 Ratanak and one of the youth at the church talk with a Tribal Man in the 'nearby' village. This man told us he is 100 years old. (I didn't even ask them to pose like that)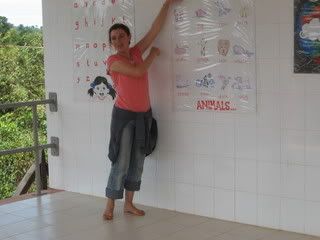 Me teaching English at the hospital. We were only encouraged to build a childrens room here with the stipulation that I would teach English, but most of the children were either too young or too sick to learn for long. So my English classes here were brief and mostly for the mothers. After about 15 minutes attention spans waned, and we could move onto....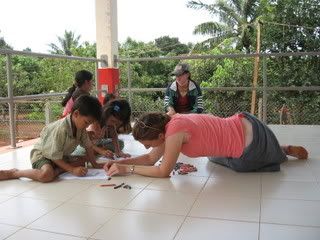 ....coloring with the children, which was far more fun for all of us.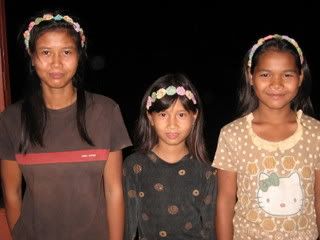 Srey Mom, Marie and Srey Yung loved to help me sew yo-yos for my quilt. Most of them weren't quite up to par, but we came to a happy medium, and they all made enough yo-yos to have a headband apiece. (The boys would often join us as well)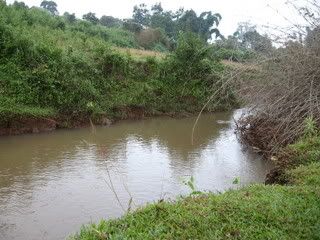 "He Leads me beside quiet waters...he restores my soul." My own private cow pasture for devotions time. Psalm 23 will never be the same again.

Our team at Loka Village for the new church and orphanage opening. I was invited to cut the ribbon -- a big honor, I was told. Our last picture together as a team -- later that afternoon Bopha was injured in a moto accident and eventually went to Phnom Penh, Bangkok, and finally back to Argentina.
Top Row: Bopha, Sopheap, Me, Sumuuen
Bottom Row: Ratanak, Yee, Dina, Moses, Sokoen.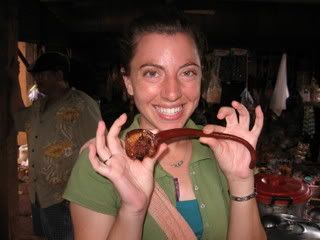 And just for you, Drea, me holding a pig's tail at the Mondulkiri Psar.