Khmer New Year
Here are some pictures of Khmer New Year. After we went to the restaurant where I petted a cat and ate while laying in a hammock, we went to the grassy area in the median and ate popcorn, read and people watched. I finished a lengthy letter to the Scobell's I've been working on for months now.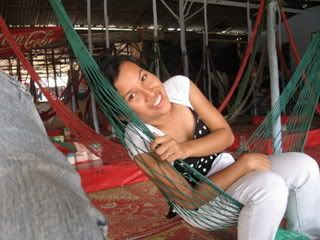 Dary, who hosted us in Phnom Penh
We stayed with Dary in her house, sometimes with her mother, brothers or sister also. Our favorite days were when we went to the western supermarket and cooked ourselves Pasta and toasted cheese sandwiches. For breakfast we had scrambled eggs, toast, and coffee. You don't realize how much you miss home until you trade rice porridge for scrambled eggs (which I was so tired of on tour, but so grateful for here. This morning I made myself fried eggs for breakfast, and Mom made them so much growing up I swore I'd never voluntarily eat them again. Just goes to show you...something).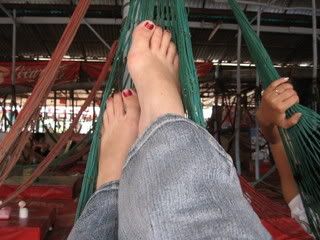 Me in the hammock
We spent some time in the Russian Market shopping. I bought only a skirt for outreach and a few tank tops for under things. But Jessica and Susy won't be coming back through Phnom Penh at the end of outreach, while my team will be spending three days there at the base. So if I have any money left, I'll do my shopping then. There is some beautiful silk there, and carved stuff, and fabrics and hand woven Kramas. I was sorely tempted.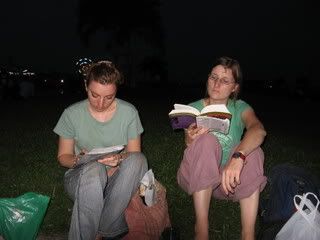 Me and Susy in Phnom Penh