Khmer Culture Day/End of Class Party
Dressing Khmer to make a point
For our last day of English class, Alissa and I threw a party. We bought snacks, and watched the movie Joseph: The King of Dreams. We'd spent six days reading the story of Joseph out loud as part of our English Comprehension plan, and then copied the story for them to read. Then Seang found the movie in Phnom Penh, and we showed it to them as a treat.
While they watched the movie, two of my Khmer friends got me dressed up in Khmer clothes, did my makeup and quickly taught me a dance. They dressed up too. When the movie ended we sang a song and did a Khmer Dance (me very badly), and then I got to talk to them about culture. Here I was looking very sill as a Khmer, and next to me stood two beautiful Khmer girls, dancing and singing beautifully. They looked wonderful. I just looked silly and like I was trying too hard.
Here, most young people do everything they can to be Western. They whiten their skin and watch MTV and movies, and want larger noses and bigger eyes. I told them that we spend tons of money in America darkening our skins, and making our noses smaller. And that while it's alright to like things about other cultures (I told them I love Italian and Thai food, English authors, and French mentality towards life and fashion), to remember that they have a wonderful culture (that was all but destroyed by the Khmer Rouge) and our country would love to have the history and traditions that they are in a hurry to be rid of. It is good to be content with the culture you are born into. Appreciate other cultures, but also appreciate your own...because it is good and God loves Khmer too.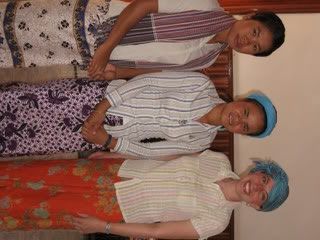 Sumuuen, Sombat and Me all Khmered out.